Vendor information

Vendor spaces are available on a first-come, first served basis unless you have made arrangements in advance with us to reserve a particular space for a period of time.  Rietta Flea Market opens at 6am (7am starting after Labor Day) and closes when the crowd has gone sometime in the afternoon.   It's a busy place! 2018 opening date is projected to be Sunday, April 1st, weather permitting (weather permitting)   Vendor info (printable pdf)
Hours:  Open for the season Sundays at 6am beginning April 1, 2018
Size of space and pricing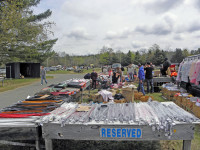 Outside Vendor spaces are $30.00 and include a 10 foot by 20 foot space and one table which is 8′ by 4′.   While you may use additional tables to enhance your display, you may not put your table any further than 1/2 the way between your table and the next table.   You are allowed to purchase multiple spaces.  Seasonal rentals are available.   Please contact us for details.
Vendor Capacity
Rietta Flea Market has the capacity for 650 vendors.
Reserve for the Whole Season! 
Price for One day is $30 per space.   Entire season prices  below:
Outside Reserve Spaces $825 for one space and $775 per additional space
Inside Reserve Spaces are $750 for one space and $700 per additional space
Inside Spaces
A limited number of inside spaces are available for the full season only.  Please contact us for details.
Prohibited Items
No illegal items are permitted at any time
No dogs are allowed on the field at any time.  Please leave your dog at home.
Per Dept of Agriculture guidelines and the State of Massachusetts:   No animals may be sold or given away including kittens, cats, puppies, dogs, rabbits, or any we haven't mentioned.
As Rietta Flea Market operates a complete food concession and bar, please understand that vendors may not set up their own food concessions.    The sale of produce, plants, and certain specialty products is permitted.   Please ask us if you have any questions.
Traveling to Us
Rietta Flea Market is easily accessible by most major routes.   Here's how to get to us.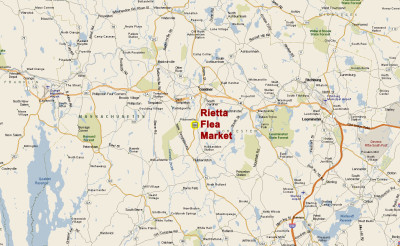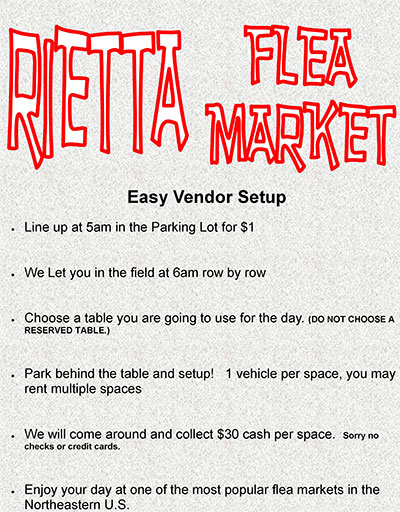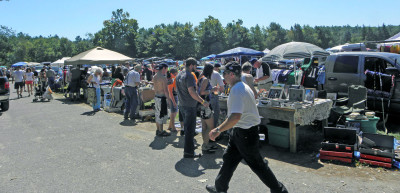 Contact us with any questions you may have.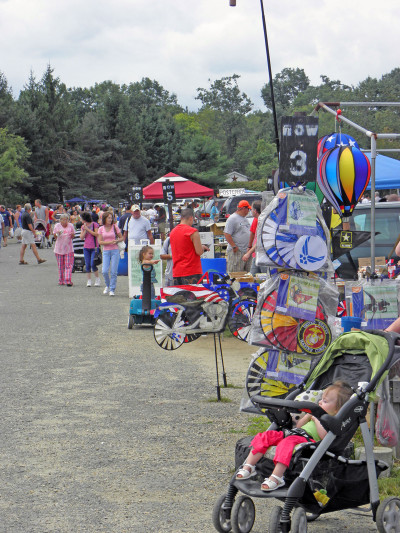 Rietta Flea Market is known to attract thousands of people on the average Sunday.   See you this Sunday!