Rietta Flea Market Hubbardston, MA   –   Open EVERY SUNDAY Weather Permitting!
Vendor Information:  Rietta Flea Market is open Sundays beginning at 6am. Spaces are first come, first served unless you have arranged for a reserved space.   Outside vendor spaces are $30 and include a 10 foot by 20 foot space and one table which is 8′ by 4′.    For more vendor information, please click here to visit our Vendor Information page.    You may also call (978) 632-0559 or use our Contact form
Please also note:   We have found that in the world of the internet, pranksters abound and often post incorrect hours and days for Rietta.  For over 50 years, we have been open during the season on Sundays only starting at 6am (7am after Labor Day).   This is our plan for the 2017 season and for the future going forward.   Please note this before relying on incorrect information.   Thank you very much.
OPEN SUNDAYS April through November!
Celebrating 51 years!
Rietta Flea Market quickly grew from a small entertainment venue begun in 1966 to a growing flea market a couple of years later. Now, we celebrate 50 years! View the full 52 min. HD video.    Play it full screen.  It's full HD!
Other video options:
Rietta Flea Market of Hubbardston is easily accessible by major routes being located 25 miles from Worcester, MA, 50 miles from Springfield, MA, 70 miles from Boston, MA, 70 miles from Manchester, NH, and 60 miles from Brattleboro, VT.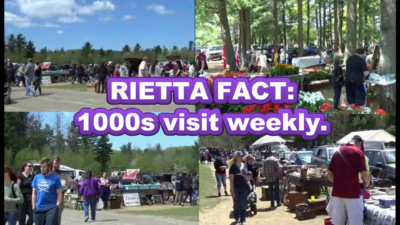 Hundreds of dealers and thousands of customers come to Rietta on Sundays from April to November. (weather permitting)   Rietta Flea Market has been around for more than 4 decades with a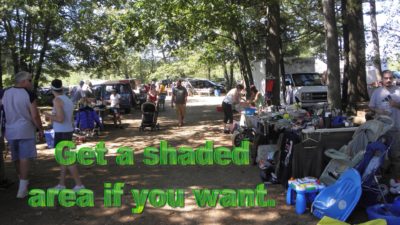 reputation of being one of the largest and most popular outdoor and indoor flea markets in the Northeastern United States.      See us from the air.    Directions to Us.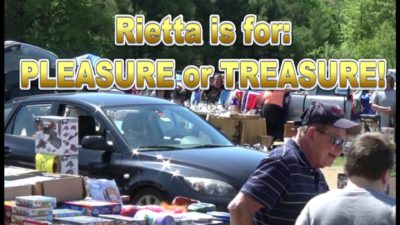 Free Admission
There's always FREE admission for Rietta customers and plenty of FREE parking.  The flea market opens at 6am,    See what it's like at Rietta. Watch this 52 minute all new HD video for 2016.
Vendors Welcome
For Pleasure or Treasure!
Browse a wide variety of new and used merchandise from Rietta regulars or area folks.
It's a fun family experience whether you are looking for something specific, having fun browsing, or just coming for a great walk.        Click here for photos.    Click for Slide Show
Please note that per Board of Health and other regulations NO PETS ARE ALLOWED at Rietta Flea Market

Reserve for the 2017 season!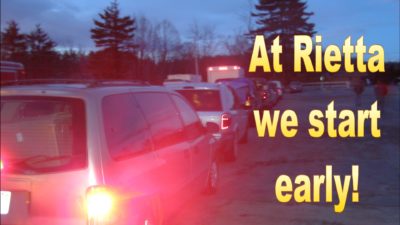 Reserve your Sunday space Now .
Full season prices are:  Outside Reserve Spaces are $825 for one Space (for season) and $775 per additional Space (for season) .   Inside Reserve Spaces are $750 for one Space(for season)  and $700 per additional Space (for season) .   Rietta is open for the season beginning April 9, 2017 (Weather Permitting).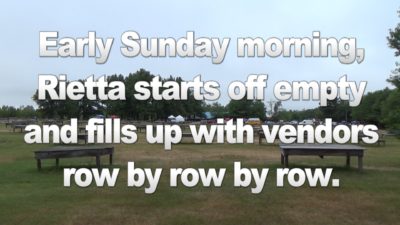 Payment is due in full upon reserving a single space.   Additional spaces, add 30 days per space.    For more information, please call (978) 632-0559, or use the contact form,
Rietta Flea Market Slide Show
If you would like to Contact Us, click here.     More About Us here.
Expansion News
Have you heard the big news about the expansion of Rietta Flea Market?    Rietta is sprucing up the place with more tables and various updates.
Rietta is proud to be a part of the local economy right now and into the future.   We try to buy locally whenever w can.   We support the local job market by hiring local youth.   There's nothing like Rietta and we love it too!
Thank you
Thank you for contributing to our success now and for many years to come!
Publicity
Rietta 2016 52 minute HD 50th Anniversary Video 1920×1080   720×480
March 2014 AAA Newsletter profile – Rietta Flea Market featured in the March 2014 newsletter of AAA.     Thank you vendors, customers, employees, staff, and management for making Rietta's 50 years possible.