Rietta Flea Market Hubbardston, MA   –   Open EVERY SUNDAY Weather Permitting!
First Day of 2018 Season is Sunday April 1
 Open at 6am starting Sunday 4/1/18
Weather impacts how early we can open for the season.   If we are able to open in March, we will let you know here.    Opening day is usually one of the last two Sundays in March or one of the first two Sundays in April: all weather permitting!

Vendor / Seller Information
Rietta Flea Market is open Sundays beginning at 6 am. (7 am after Labor Day)  Spaces are first come, first served unless you have arranged for a reserved space.  Outside vendor spaces are $30 and include a 10 foot by 20 foot space and one 8′ by 4′   table.  More details below.
Just show up at Rietta about an hour before opening time and line up in the Parking Lot. ($1 parking fee)  Vendors are let in at opening time and may choose any available space that is not marked reserved.    Outside Vendor spaces are $30.00 and include a 10 foot by 20 foot space and one table which is 8′ by 4′.   While you may use additional tables to enhance your display, you may not put your table any further than 1/2 the way between your table and the next table.   You are allowed to purchase multiple spaces.   Seasonal reserved space rentals are available:  With a reserved space you can show up at opening time and already know your location    Please contact us for details.
First come, first served
Vendor spaces are available on a first-come, first served basis unless you have made arrangements in advance with us to reserve a particular space for a period of time.  Rietta Flea Market opens at 6am (7am starting after Labor Day) and closes when the crowd has gone sometime in the afternoon.
Easy Vendor Setup Procedure
Line up at 5am in the Parking Lot for $1 (1 hr. later after Labor Day)
We let you in the field at 6am row by row (1 hr. later after Labor Day)
You choose a table you are going to use for the day.   Do not choose someone else's reserved table.
Park behind the table and set up.  1 vehicle per space, you may rent multiple spaces.
We will come around and collect $30 cash per space.  Sorry no checks or credit cards.
Enjoy your day at one of the most popular flea markets in the Northeastern U.S.
Vendor Capacity
Rietta Flea Market has the capacity for 650 vendors.
Reserve for the Whole Season!
Outside Reserve Spaces $825 for one space and $775 per additional space
Inside Reserve Spaces are $750 for one space and $700 per additional space
Prohibited Items
No illegal items are permitted at any time
No dogs are allowed on the field at any time.  Please leave your dog at home.
Per Dept of Agriculture guidelines and the State of Massachusetts:   No animals may be sold or given away including kittens, cats, puppies, dogs, rabbits, or any we haven't mentioned.
As Rietta Flea Market operates a complete food concession and bar, please understand that vendors may not set up their own food concessions.    The sale of produce, plants, and certain specialty products is permitted.   Please ask us if you have any questions.
It's a busy place!
 Traveling to Us
Rietta Flea Market is easily accessible by most major routes.   Here's how to get to us.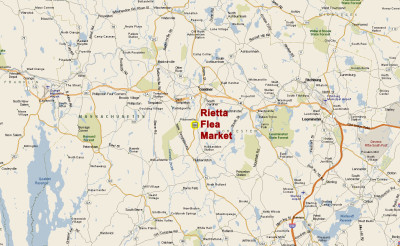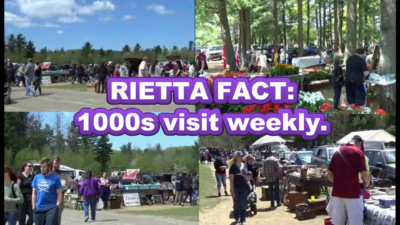 If you are a flea market seller looking for a highly trafficked venue, Rietta is a great choice to reach lots of people every Sunday.
Rietta Flea Market of Hubbardston is easily accessible by major routes being located 25 miles from Worcester, MA, 50 miles from Springfield, MA, 70 miles from Boston, MA, 70 miles from Manchester, NH, and 60 miles from Brattleboro, VT.     Hundreds of dealers and thousands of customers come to Rietta on Sundays from April to November. (weather permitting)   Rietta Flea Market has been around for more than 5 decades with a reputation of being one of the largest and most popular outdoor and indoor flea markets in the Northeastern United States.      See us from the air.    Directions to Us.


Buyer Information
FREE Admission  FREE Parking
Lots of Food
The Rietta Buyer Experience started over 50 years ago.   Every Sunday beginning at 6am (7am after Labor Day) hundreds of vendors offer an incredible selection of new and used merchandise of every type and description.
Here are some Buyer tips:
Parking is FREE
Admission is FREE
Lots of food available.
Wear comfortable shoes if you intend to see everything as it can be quite a trek around the entire place.
If you are currently using a stroller, we recommend bringing it along as small children tend to get tired strolling around.
Sunblock is recommended as most of our vendors are located within an open field and you can easily get a sunburn if you spend a couple hours here on a sunny day.
Plan on enjoying the food at our concession stand as we offer many popular items including hot dogs, hamburgers, french fries, and our famous fried dough.   We also offer the Long Ranch Bar.    How about a beer and a burger?
Bring cash as most vendors to not take credit cards or checks.
Leave all pets at home.     We are not allowed to have dogs, cats etc. on the flea market grounds and they are not safe in your car.   (Even with the windows open, a pet can die within minutes in a parked vehicle.)
It's a fun family experience whether you are looking for something specific, having fun browsing, or just coming for a great walk.
What is Rietta Like?
For a more in-depth website experience, please visit our video and photo pages.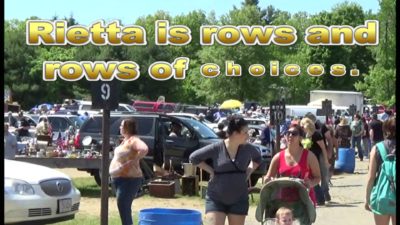 Thank you
Thank you for contributing to our success now and for many years to come!
Rietta Flea Market Slide Show
If you would like to Contact Us, click here.     More About Us here.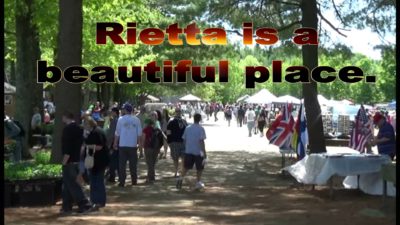 Publicity
Rietta 2016 52 minute HD 50th Anniversary Video 1920×1080   720×480
March 2014 AAA Newsletter profile
Other video options: